När ett blodigt, meningslöst krig återigen härjar i centrala Europa, 77 år efter andra världskrigets avslut, känns ofta det som vi här i L&B-redaktionen håller på med är relativt trivialt och meningslöst. Med Ukrainakriget som ridå har vi en dyster vår framför oss.
Men, behöver du – som oss andra – lite avkoppling från alla de grymma nyheter som härjar mediebilden idag, så kan du «fly» in i en bra film eller serie en liten stund och låta tankarna vandra.
PS! Här kan du donera pengar till det livsviktiga hjälparbetet för Ukraina!
Netflix
Den största streaminggiganten bjuder på två nya, nordiska, produktioner i mars.

Redan 1 april låg den nya norska ungdomsfilmen Battle: Freestyle redo för att kunna streamas.
Filmen handlar om unga Amalie (Lisa Teige) som blir upprymd när hennes danscrew, och Mikael, väljs ut för att tävla i Paris – men som sedan distraheras när hon återförenas med sin mamma som Amalie inte sett sedan hon var liten och därmed måste lära känna på nytt.
Det har snart gått hela två år (!) sedan Netflix annonserade att streaminggiganten blåsa nytt liv i den danska succéserien Borgen; som skildrar den politiska kampen kring den danska maktens högborg: Christianborg.
Borgen – Riket, makten och äran blir en självständig fortsättning på de tidigare säsongerna av Borgen.
I uppföljningsserien följer vi Birgitte Nyborg (Sidse Babett Knudsen), hennes personal och media som ansvarar för att bevaka henne – den här omgången figurerar Nyborg som utrikesminister.
Serien handlar om några av vår tids stora politiska utmaningar: relevansen för Danmark i den moderna världen, stormakternas kamp för kontroll över Arktis – och inte minst klimatkrisen. Huvudberättelsen fokuserar på kampen om makten och vad makt gör med människor; både professionellt och personligt.
Den nya versionen av det politiska dramat släpps på Netflix i Norden den 14 april (globalt: 2 juni).
PS! Serien har varit tillgänglig i Danmark sedan januari, på DR.
Säsong 2 av Russian Doll släpps den 20 april, medan du kan se Ben Radcliffe och Josette Simon i dramathrillern Anatomy of a Scandal . Premiär den 15 april.
Fans av realityserier (om de fortfarande existerar?) kan frossa i intriger och glamour i den femte säsongen av Selling Sunset (22 april).
Den serien flest Netflix-prenumeranter väntar på är antagligen del 2 av säsong 4 av Ozark. Se Jason Bateman och Laura Linney, för sista gång (!), streta sig vidare genom det komplicerade livet.
Se mer av månadens Netflix-höjdpunkter här:
Disney+
Personligen håller vi för näsan, men återlanseringen av The Kardashians är visst det främsta dragplåstret på Disney+ i april. Du kan se mer om det bisarra livet i denna narcissistiska, ytliga familj från den 14 april.
Då har vi desto större tro på serien om ambitiösa Elizabeth Holmes (Amanda Seyfried) och hennes otroliga liv; grundare av ett företag som gjorde henne till miljardär, hennes resa från succé till bedrägeri – och så småningom total kollaps.
Serien skildrar den verkliga historien om en beryktad kvinna som många kanske känner till eller har hört talas om, men som troligtvis få vet alla detaljer om.
Elizabeth Holmes gick från att vara en respektabel pionjär inom hälsoteknologi-industrin, till en kvinna som – några år senare – blev totalt utfryst från branschen och samhället.
The Dropout kan streamas från 20 april.
På utkik efter lite «lättare» underhållning? Den romantiska komedin Sex Appeal, med Mika Abdalla och Jake Short i huvudrollerna kan du se redan från den 8 april.
Avery Hansen-White gör ingenting som hon inte briljerar med. Så när hennes långdistanspojkvän börjar hinta om att ta förhållandet till nästa nivå, bestämmer hon sig för att bli mästare över sin egen sexualitet genom att använda sin äldste vän, Larson, som provkanin.
Fans av kul animation kan få ett glädjande återseende med den milt sagt maniskt engagerade ur-ekorren Scrat (från Ice Age-serien), i Ice Age: Scrat på äventyr. Släpps den 13 april.
HBO Max
Max kickar igång månaden med den nya, ungerska, Kalla kriget-thrillerserien The Informant.
Ungern, 1985, bakom järnridån. Geri har just börjat på universitetet och ansluter sig till en radikal grupp, styrd av den karismatiske Száva. Men Geri har en hemlighet. För att rädda sin bror har han blivit tvungen att vara informant åt den totalitära staten. Medan Geri brottas med dilemmat om vilken sida han borde stå på, inser gruppens ledare – som bara blir mer och mer radikal – att det finns en informant bland dem. Släpps 1 april.
Från skaparna av smått legendariska The Wire, kan du i april se den nya kriminalserien We Own This City på HBO Max.
Serien är baserad på Baltimore Sun-reporter Justin Fentons bok. Vi får följa berättelsen om hur Baltimore Police Departments Gun Trace Task Force växte fram – och så småningom dess förfall, samt om korruptionen och den moraliska kollaps som drabbade en amerikansk stad där lagstiftning om narkotikaförbud och massarrestationer kämpades fram på bekostnad av faktiskt polisarbete. Premiär den 26 april.
Säsong 2 av det tyskdanska dramat Sløborn har premiär 5 april.
En pandemi drabbar ön Sløborn och de överlevande måste ta konsekvenserna. I säsong 2 har ön evakuerats och den dödliga duvinfluensan har krävt många av invånarnas liv. En liten grupp människor vägrar att evakueras och gömmer sig på ön, i rädsla för att utsättas för större smittorisk på fastlandet.
8 april kan du se kriminaldramat Tokyo Vice, som har inspirerats av den amerikanska journalisten Jake Adelsteins förstahandsberättelser om The Tokyo Metropolitan Police. Denna kriminaldramaserie, filmad i Tokyo, följer Adelsteins (Ansel Elgort) väg inn i Tokyos neon-blinkande undervärld i slutet av 90-talet, där ingenting är det som det utger sig att vara. Ken Watanabe och Ansel Elgort innehar huvudrollerna.
Säsong 4 av biker-kriminalserien Mayans M.C. släpps mot slutet av månaden, men den serien vi väntar mest på i april är återseendet med den stupfulla, koko-flygvärdinnan Cassie Bowden (Kaley Cuoco) i Flight Attendant, säsong 2.
Cassie Bowden (Couco) är i mitten av trettioårsåldern och har varken barn eller fast sällskap – och formligen älskar sitt fria liv där hon kan flyga runt över hela världen, uppleva storstäder som Rom, Kuala Lumpur, Bangkok, Mexico City och Seoul. Nästan lika mycket som en god vodkadrink älskar hon en häftig natt med någon av det motsatta könet – vilket Cassie verkligen förser sig rikligt med. Efter ett aningen "olyckligt" mord i säsong 1 blir hennes liv plötsligt mycket mer komplicerat.
Läs också
Buckle up!
En hyperaktiv, gravt alkoholiserad och gudabenådat charmig flygvärdinna, sådant kan det verkligen bli bra underhållning av.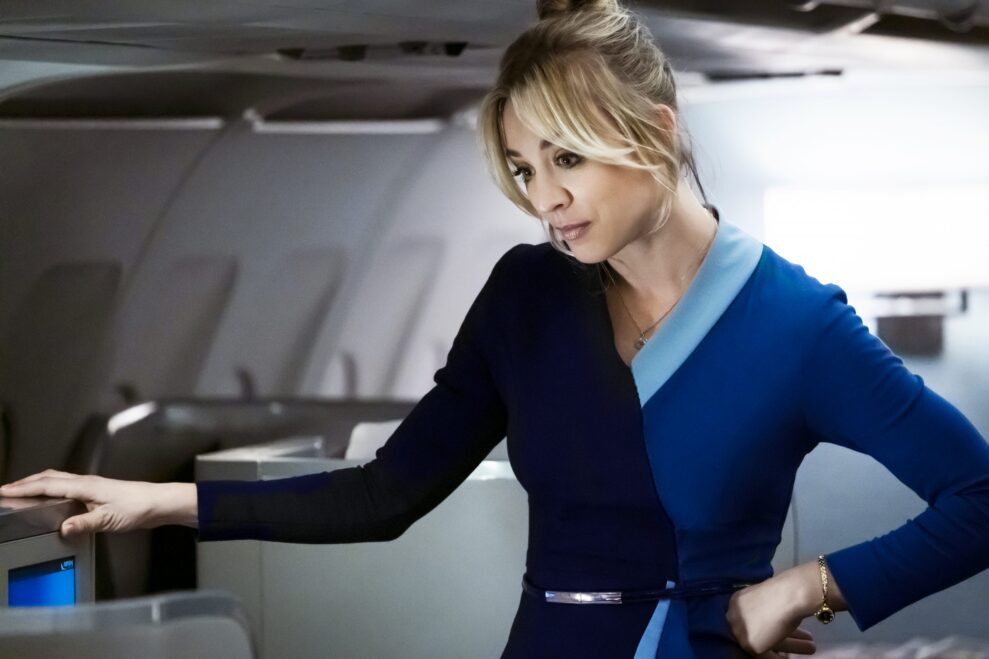 I den andra säsongen möter vi Cassie igen, denna gång i en smått obekant miljö – på ett möte för anonyma alkoholister. Det är tydligt att hon strävar efter att göra färre dåliga val i livet, vi kan bara gissa hur det blir med den saken…
Hon har flyttat till Los Angeles, skaffat en ny pojkvän och har fortfarande en nära dialog med CIA, så nära att hon nu jobbar lite undercover för underrättelseorganisationen.
Säsong 2 har premiär den 22 april.
https://youtu.be/VFeFlBdItUA
Prime Video
Redan från 1 april kunde du streama thrillern Wolf Like Me, med Isla Fisher och Josh Gad i huvudrollerna.
De lider efter att ha förlorat sin hustru och mor och strävar med att bonda med varandra. En morgon blir Gary och Emmas bil påkörd av en jeep som kör på rött ljus…
Jeff Bezos & Co serverar oss sedan en Chris Pine-dubbel i april.
I The Contractor (1/4) spelar han den pensionerade sergeanten James Harper som hamnar på djupt vatten i ett försök att rädda familjen.
Harper, som ofrivilligt skrivs ut ur hären och blir avskuren från pensionen, med stora skulder och utan valmöjligheter, blir desperat efter att kunna försörja sin familj. Därmed ingår han en kontrakt med en privat militärstyrka. När det allra första uppdraget misslyckas, befinner sig elitsoldaten i en situation där han är jagad och på flykt, fångad i en farlig konspiration. Han kämpar för att hålla sig i livet tillräckligt länge för att komma hem och avduka de sanna motiven hos de som förrådde honom.
I thrillern All The Old Knives, regisserad av danske Januz Metz, spelar Pine mot Thandiwe Newton och Laurence Fishburn. De får uppdraget att ta reda på vem som är mullvad i CIA och som har läckt information som har kostat många människor livet. Premiär 8 april.
Mer spänning får du i den nya serien Outer Range med Josh Brolin i huvudrollen.
Outer Range centreras kring Royal Abbott (Brolin), en rancher som kämpar för sitt land och sin familj, och som upptäcker ett outgrundligt mysterium i utkanten av Wyomings vildmark. En spännande familjesaga från amerikanska västern med inslag av humor och övernaturlig mystik. Premiär den 15 april.
Apple TV+
"Äppelfansen" kan mysa till det med ett riktigt spiondrama, med den nya serien Slow Horses, där legenden Gary Oldman spelar huvudrollen.
Serien har inspirerats av Mick Herrons första roman i "Slow Horses"-serien. Detta mörka och underhållande spiondrama följer ett team av brittiska underrättelsesagenter som tjänstgör i en "dumping ground department" i MI5. Under ledning av deras briljante, men hetlevrade ledare; den beryktade Jackson Lamb, navigeras de genom spionagevärldens utmaningar för att försvara England från läbbiga fiender. I tillägg till Oldman har Kristin Scott Thomas en ledande roll.
Premiären var redan den 1 april.
Elisabeth Moss (The Handmaid's Tale) spelar en ny roll i kriminalserien Shining Girls.
Vi följer Kirby Mazrachi (Moss), en Chicagobaserad tidningsarkivarie med journalistiska ambitioner, som pausar sin karriär efter ett traumatiskt överfall. Många år efter att det brutala angreppet lämnat henne i ett alltmer ostabilt tillstånd, får hon veta att ett mord som nyligen begåtts har samband med övergreppet som hon blev utsatt för. Hon slår sig så ihop med veteranreportern Dan Velazquez (Wagner Moura) för att förstå sin diffusa nutid och konfrontera det förflutna.
Premiär den 29 april.
Paramount+
Den nyaste streamingtjänsten befinner sig plötsligt i ett litet vakuum efter att det storslagna westerneposet 1883 har avslutat sin första (och sista?) säsong.
Läs också
Kommer det en säsong 2 av 1883?
Efter den känslomässigt utmattande säsongsavslutningen av western-eposet "1883" ställer sig alla samma fråga: Kommer det en säsong till?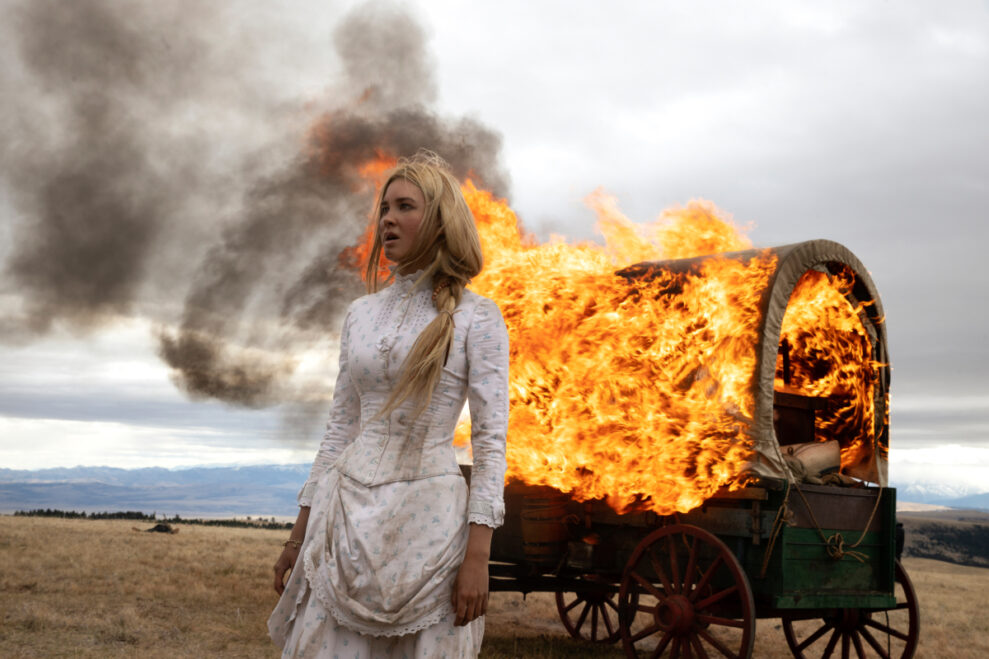 Paramount lockar denna månad sina prenumeranter med en ny serie (regisserad av danska Susanne Bier) om de ikoniska presidentfruarna, Michelle Obama (Viola Davis), Eleanor Roosevelt (Gillian Andersson) och Betty Ford (Michelle Pfeiffer). The First Lady har premiär den 18 april.
I samband med 50 (!)-årsjubileet för The Godfather, kommer den nya serien The Offer, som tar sig an inspelningen av de ikoniska filmerna.
Miles Teller, Matthew Goode, Juno Temple och Giovanni Ribise innehar huvudrollerna i denna dramaserie, som har premiär den 29 april.
25 april kan du se Chiwetel Ejiofor och Naomi Harris i sci-fi-serien The Man Who Fell To Earth, medan säsong 2 av den lättsamma komediserien iCarly kan streamas från den 9 april. Miranda Cosgrove spelar fortfarande huvudrollen.
Viaplay
Den nordiska streamingtjänsten erbjuder bland annat en ny, norsk dramaserie med Pia Tjelta: Made in Oslo.
Hur är det att vara ofrivilligt barnlös i en tid där vi förväntas kunna skaffa allt vi önskar oss? Den nya Viaplay Original «Made in Oslo» är ett karaktärdrivet drama om Elin (Pia Tjelta) som driver en fertilitetsklinik tillsammans med sitt ex. På kliniken är hon lugn och professionell under behandlingen av patienterna som önskar det samma som hon själv: Att få barn. Privat kämpar hon en desperat och till synes maktlös kamp mot sin egen biologiska klocka. Dansk-svenska Jakob Cedergren spelar rollen som Elins man.
Ännu mer efterlängtat är antagligen återseendet med Wisting.
Den norske efterforskaren William Wisting (Sven Nordin) är tillbaka i ännu en häftig och dramatisk säsong. Larvik är i chock efter att någon har placerat ett huvud på en påle mitt i centrum, och William Wisting står inför en av sina svåraste och mest dramatiska saker. FBI-agent Maggie Griffin (Carrie-Anne Moss, The Matrix) återvänder för att hjälpa Wisting och hans team, som tvingas konfrontera hänsynslösa kriminella som utnyttjar de mest sårbara bland oss. Wisting, säsong 3 är baserad på boken «Nattmannen» av Jørn Lier Horst, och har premiär den 10 april.
Isländskt drama får du i Systerskap. Säsong 1 har premiär den 3 april.
Systerskap följer efterforskare Vera (Halldóra Geirharðsdóttir) som önskar ta reda på vad som egentligen hände med en ung flicka som försvann på Island för 25 år sedan. Efterforskningen pekar på en liten grupp väluppfostrade kvinnor – prästen Elisabet, kockan Anna Sigga och sjuksköterskan Karlotta. De har länge levt sina liv i skuggan av det förflutna och den förfärliga förbrytelse de utförde som tonåringar. Allt medan Vera och Einar närmar sig sanningen ökar de tre kvinnornas rädsla för vad som ska komma upp till ytan…
PS! Från den 8 april kan du streama Daniel Craigs svanesång som agent 007, i den 25:e James Bond-filmen No Time to Die. Rekommenderas!
Komplett lista över alla nya titlar hos de största streamingtjänsterna ser du här nedanför. Vi önskar dig en trevlig streamingupplevelse – och, en riktigt GLAD PÅSK 😊
Läs hela artikeln? Logga in eller bli medlem i LB+.

Med
LB+

får du tillgång till allt innehåll på ljudochbild.se
I LB+ ingår:
Fler än 6 000 produkttester
Undvik felköp med våra tips och guider
Var med i L&B-forum med andra ljud- och bildfantaster
Stora rabatter hos våra partner i LB+ Fördelsklubb
Alltid uppdaterad med senaste nytt
Nyhetsbrev direkt i din inkorg
Stäng av annonser (gäller bara 12-månaders prenumeration)
L&B TechCast – en podcast med L&B
Ingen bindningstid, säg upp när du vill!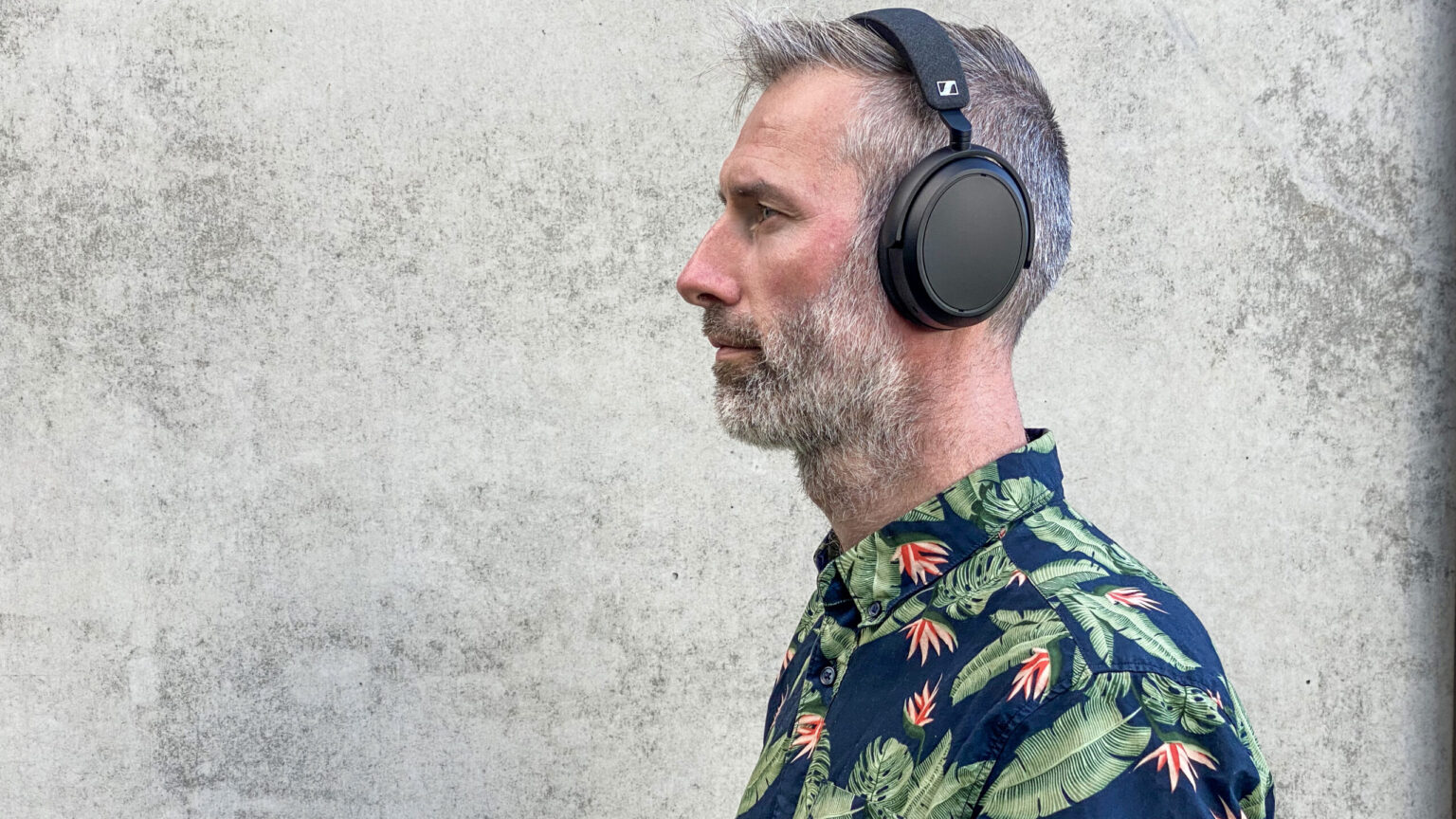 Vi testar för dig!