Kvällarna har blivit kyligare – och framför allt mörkare. Med andra ord en perfekt tid att njuta av en bra serie eller film framför TV:n.
Då är det bra att strömningstjänsterna har ett så omfattande och varierat nytt innehåll i september.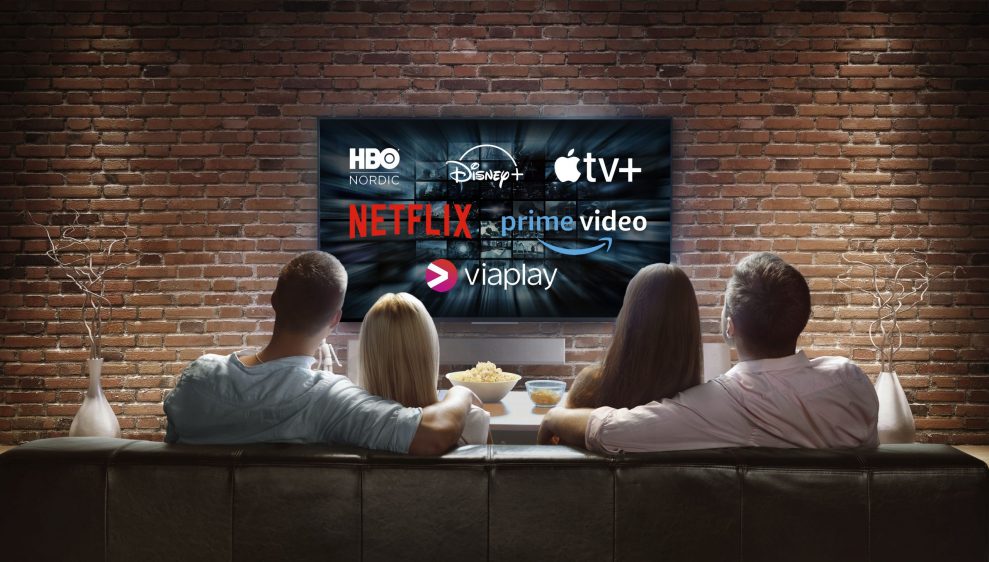 Disney+
Strömningsjätten har ett rikligt höstprogram – som du kan läsa mer om här – och redan i september är det premiär för många nya spännande serier.
Y: The Last Man: En post-apokalyptisk värld där samtliga män (utom en) har "gått hädan". Diane Lane är den nya presidenten för en nation som endast består av det kvinnliga könet. Kommer 22 september.
American Horror Stories: Spinoff-serie från Ryan Murphys American Horror Story. I den nya antologiserien berättas en ny skräckhistoria i varje avsnitt. Premiär 8 september.
Dug Days är ett slags spinoff med hunden till änklingen i Pixars Upp. Premiär 1/9.
Billie Eilish framför hela sitt senaste album, ackompanjerad av Los Angeles Philharmonic, i konsertfilmen Happier Than Ever. Släpps redan 3 september.
Star Wars Visions. Den spännande och ytterst varierade animerade serien Star Wars Visions bådar gott. Premiär 22 september.
Netflix
Den största av dem alla fortsätter i sin imponerande takt av originalproduktioner. Två nya nordiska har premiär i september
Den svenska dramafilmen Vinterviken, om invandrarsonen John-John som faller pladask för rikemansdottern Elisabeth, kommer den 8 september, och den danska krimserien Kastanjemannen släpps i slutet av månaden (29/9).
De hyperkåta tonåringarna i Moordale återser vi 17 september, då kommer säsong 3 av Sex Education.
Ännu mer ser vi fram emot säsong 5 av den spanska actionserien La casa de papel. Lanseras på Netflix idag.
Andra höjdpunkter är Jaguar (22/9) och Lucifer (10/9).
Missa inte heller filmerna Kate (10/9), The Starling (24/9), Daniel Craig in Knives Out (1/9) och, inte minst, den chockerande sagolika The Lighthouse (8/9).
Prime Video
Amazon kickstartar månaden med en häftig och radikal, nyinspelning av Cinderella som definitivt är en modern inpackning i musikalversionen. Premiär i dag.
Vi ser verkligen fram emot den franska filmen The Mad Women's Ball (17/9), med fokus på kvinnofientlighet och stark vilja. Skådespelerskan, författaren och regissören Mélanie Laurent (Inglourious Basterds) är regissör och spelar en av huvudrollerna.
Den 10 september har The Voyeurs premiär på Prime Video i Norden. Filmen handlar om ett ungt nyanlända par i Montreal. Pippa (Sydney Sweeney) och Thomas (Justice Smith) börjar snabbt intressera sig för grannarnas intima privatliv. När paret upptäcker att grannarna är otrogna mot varandra, växer nyfikenheten gradvis tills en besatthet och saker och ting tappar kontrollen.
Prime Video kallar filmen för en "erotisk thriller" …
HBO Nordic
Det kommer inte så våldsamt stora nyheter från HBO den här månaden, men i väntan på lanseringen av HBO Max vill vi lyfta fram:
Säsong 3 av komediserien What We Do in the Shadows följer tre vampyrer från Staten Island som har varit rumskamrater i hundratals år. Huvudpersonerna är Kayvan Novak, Matt Berry, Natasia Demetriou. Släpptes idag.
Missa inte heller miljardärernas lekstuga i Billions, säsong 5 del 2 (6/9).
Apple TV+
I september är det långt mellan premiärerna på Apple TV+. Bortsett från att Ted Lasso, säsong 2 rullar på så finns det bara två nya serier.
17 september kan du se säsong 2 av Apples första originalserie, The Morning Show, med Jennifer Aniston, Reese Witherspoon, Billy Crudup och Steve Carell i huvudrollerna.
Värd en titt är också Jared Harris nya sci-fi-serie. Säsong 1 av Foundation har premiär 24 september.
Paramount+
Nykomlingen som "snart" ersätts av SkyShowtime släpper en riktig filmgodbit 14 september. Då kan du se Emily Blunt och John Krasinski i skräckuppföljaren A Quiet Place 2!
Andra höjdpunkter är 2 x Jeff Daniels i American Rust, säsong 1 (13/9) och i dramaserien The Comey Rule (28/9).
Fans av Liam Neeson får inte missa dramafilmen Ordinary Love som hade premiär för två dagar sedan.
Viaplay
Vår inhemska strömningstjänst bjuder på den nya norska originalserien Furia, med Pål Sverre Hagen, Ine Marie Wilmann, Henrik Mestad och Trond Espen Seim i huvudrollerna.
I serien möter vi Ragna (Wilmann), som arbetar på Romsdalens vackraste turistmål, men som lever ett mörkt liv på nätet. Polisen Asgeir (Hagen) anländer till samma plats och måste tillsammans med sin dotter hålla en låg profil eftersom de gömmer sig från den ryska maffian. Serien beskrivs som "Europas Homeland". Släpps 26 september.
Andra höjdpunkter i serien är säsong 1 av dramaserien Søstre (5/9), säsong 1 av den psykologiska thrillern Close to Me (12/9) och Leif GW Persson-thrillern Det som göms i snö. Under säsong 2 är Robert Gustafsson (Hundraåringen som klättrade ut genom fönstret och försvann) tillbaka som Cold Case-gruppledare Peter Wendel. Säsongen handlar om Ludvig Larsson (Samuel Fröler), en regional polischef som visar sig leva ett mörkt dubbelliv.
PS! Om du inte har sett den här godbiten ännu så missa för all del inte den utmärkta svenska ungdomsserien Threesome. Rekommenderas!
Här är KOMPLETT lista över alla nya titlar på de största strömningstjänsterna. Mycket streaming-nöje – och njut av de sista resterna av sommarvärmen. 😊