Det är ingen tvekan om att strömningskriget mellan de internationella jättarna har intensifierats det senaste året. Allt detta tjänar vi konsumenter på – genom att ständigt växande utbud av kvalitetsserier och -filmer.
På grund av coronapandemin alla stängda biografer är det fortfarande TV-skärmen vi får förlita oss på för att underhållna. Och i maj är det bara att bunkra upp med popcorn och förbereda sig på liggsår. För nu kan du tillbringa många timmar framför "dumburken"!
I maj släpps rekordmånga titlar på de största tjänsterna, hela 313 stycken nya och gamla serier och filmer kan du avnjuta framför storskärmen de närmaste fyra vår-/sommarveckorna – även om det kommer mycket gammalt också.
Men det finns ett par riktiga godbitar, som Emma Stone i Cruella på Disney+, Henriette Steenstrup i kul form i Pørni på Viaplay, Anna Kendrick i romantisk stämning i Love Life på HBO Nordic, fransk skräck med Oxygen på Netflix – och Star Wars-fans får (förhoppningsvis) sitt lystmäte stillat med The Bad Batch (Uslingarna) på Disney+.
Kan Alec Balwin överraska med Chick Fight på Prime Video? Vi är skeptiska. Då är vi mycket mer positivt inställda till The Underground Railroad på samma tjänst, och Mythic Quest: Ravens Banquet (Apple TV+) tilltalar kanske gaming-fansen.
Nykomling Paramount+ har en synnerligen skralt smörgåsbord i maj, möjligtvis undantag för andra säsongen av The Hills: New Beginnings.
Netflix lockar också med äventyrsserien Jupiter's Legacy, med Josh Duhamel, Ben Daniels och Leslie Bibb i huvudrollerna.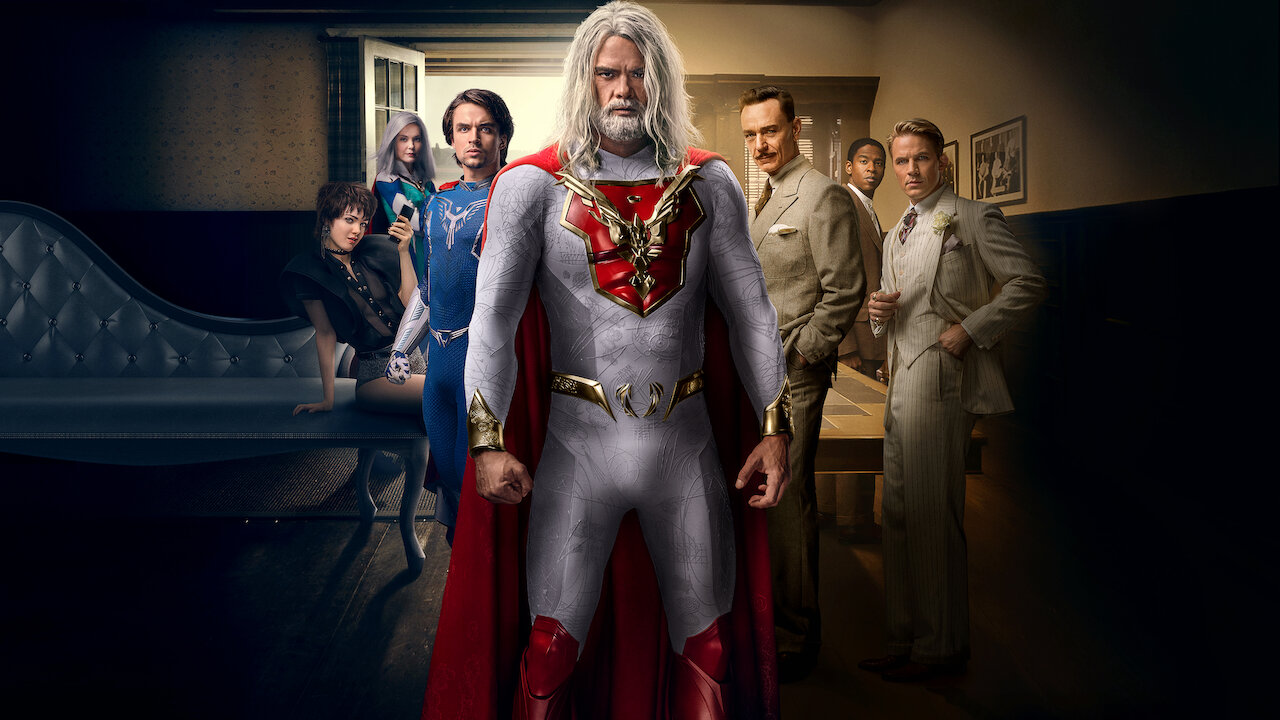 Missa inte heller slutet på Mare of Easttown (HBO), med Kate Winslet i en av hennes starkaste roller.
Om du fortfarande klamrar dig fast vid fysiska medier rekommenderar vi 4K UHD BD-utgåvan av Mulan.
Mycket nöje – och nu är snart sommaren här!  😊
RELEASER MAJ 2021:
1 maj
Bad Boys for Life (Prime Video)
Tyler Perry's The Single Moms Club (Netflix)
Angel Has Fallen (Netflix)
Midsommar (Netflix)
Below Deck, säsong 3 (Netflix)
Below Deck, säsong 4 (Netflix)
It's Always Sunny in Philadelphia, säsong 14 (Viaplay)
No Activity, säsong 4 (Paramount+)
Coroner, säsong 3 (Paramount+)
Sgt. Stubby: An American Hero (Paramount+)
Sorry We Missed You (Paramount+)
Buddy Games (Paramount+)
Peninsula (Paramount+)
21 Bridges (Paramount+)
2 maj
Vincenzo, säsong 1 (Netflix)
Bastille Day (HBO)
A Bigger Splash (HBO)
Elser (HBO)
Finding Your Feet (HBO)
The Guernsey Literary And Potato Peel Pie Society (HBO)
Hope Gap (HBO)
Love, Rosie (HBO)
A Most Wanted Man (HBO)
The Program (HBO)
Sense of An Ending (HBO)
Tusenbröder – Återkomsten (HBO)
Ondskan (HBO)
Kill Your Darlings (HBO)
The Journey (HBO)
3 maj
Fear the Walking Dead, säsong 6, eps. 11 (HBO)
Real Time with Bill Maher, säsong 19, eps. 14 (HBO)
The Nevers, säsong 1, eps. 4 (HBO)
https://youtu.be/miQqyfO66uw
Pose, säsong 3 (HBO)
Downton Abbey (Netflix)
The Fosters, säsong 1-5 (Viaplay)
Outlawd (Blu-ray)
Crisis (Blu-ray)
The Seventh Day (Blu-ray)
The Terror, säsong 1 (Blu-ray)
Big Fish (4K UHD BD)
The Fast and The Furious 1, Lim. steelbook ed. (4K UHD BD)
Uncle Peckerhead (Blu-ray)
A Woman of Paris (Blu-ray)
Hunter X Hunter: Set 4 (Blu-ray)
A Ghost Waits (Blu-ray)
The Legend of Billie Jean (Blu-ray)
Legionnaire (Blu-ray)
4 maj
Talladega Nights: The Ballad of Ricky Bobby (Prime Video)
Star Wars: The Bad Batch, säsong 1 (Disney+)
Selena: The Series, säsong 2 (Netflix)
Navillera, säsong 1 (Netflix)
Trash Truck, säsong 2 (Netflix)
Blue Story (Netflix)
Hightown, säsong 1 (Viaplay)
5 maj
Mayans MC, säsong 3, eps. 9 (HBO)
Supergirl, säsong 6, eps. 6 (HBO)
The Brother's Grimsby (Viaplay)
6 maj
The Handmaid's Tale, säsong 4, eps. 4 (HBO)
The Wife (Viaplay)
7 maj
The Boy from Medellín (Prime Video)
Manifest, säsong 3, eps. 6 (HBO)
Birdgirl, säsong 1, eps. 4 (HBO)
Monster (Netflix)
Girls from Nowhere, säsong 2 (Netflix)
https://youtu.be/TY3IAqm-gpE
Mad for Each Other, säsong 1 (Netflix)
Monster (Netflix)
Milestone (Netflix)
Grown-ish, säsong 1-3 (Disney+)
Rosewood, säsong 1-2 (Disney+)
Afrikas dolda under, säsong 1 (Disney+)
Valley of the Boom, säsong 1 (Disney+)
Made in a Day, säsong 1 (Disney+)
Ferdinand (Disney+)
Apornas planet (1968) (Disney+)
Bortom apornas planet (Disney+)
Flykten från apornas planet (Disney+)
Erövringen av apornas planet (Disney+)
Slaget om apornas planet (Disney+)
Planet of the Apes (2001) (Disney+)
Rise of The Planet of The Apes (Disney+)
War for The Planet of The Apes (Disney+)
Genusrevolutionen (Disney+)
Sniper: Assassin's End (Viaplay)
Four Weddings and a Funeral (Viaplay)
8 maj
The Broken Hearts Gallery (Viaplay)
Spontaneous (Paramount+)
Dreamland (Paramount+)
9 maj
10 maj
Goosebumps 10 (Prime Video)
Fear the Walking Dead, säsong 6, eps. 12 (HBO)
The Nevers, säsong 1, eps. 5 (HBO)
Mare of Easttown, säsong 1, eps. 4 (HBO)
Real Time With Bill Maher, säsong 19, eps. 15 (HBO)
Blindspot, säsong 5 (Viaplay)
Justice Society: World War II (Blu-ray)
Dinner with Friends (Blu-ray)
Mobile Suit Gundam F91 (Blu-ray)
Frankie Drake Mysteries, säsong 4 (Blu-ray)
Giants and Toys (Blu-ray)
Cannon Busters: The Complete Series (Blu-ray)
Tom Cruise: 5 Movie Collection (Blu-ray)
The Playboy of the Western World (Blu-ray)
11 maj
Money, Explained (Netflix)
The Crime of the Century (HBO)
12 maj
Mayans MC, säsong 3, eps. 10 (HBO)
Supergirl, säsong 6, eps. 7 (HBO)
The Upshaws, säsong 1 (Netflix)
Dance on the Forty One (Netflix)
13 maj
The Handmaid's Tale, säsong 4, eps. 5 (HBO)
Holy Father (HBO)
Escape Room (Prime Video)
Castlevania, säsong 4 (Netflix)
14 maj
I Care a Lot (Prime Video)
Move to Heaven, säsong 1 (Netflix)
Love, Death & Robots, säsong 2 (Netflix)
Haunted, säsong 3 (Netflix)
I am All Girls (Netflix)
Ferry (Netflix)
The Strange House (Netflix)
Jungle Beat: The Movie (Netflix)
High School Musical: The Musical: The Series, säsong 2 (Disney+)
The Story of God with Morgan Freeman, säsong 1-3 (Disney+)
Saddle Sparks, säsong 1 Morgan (Disney+)
Bless This Mess, säsong 1-2 (Disney+)
Dangerous Minds – Valget er ditt (Disney+)
The Hot Chick (Disney+)
Let's Be Cops (Disney+)
Romy & Michelle – blondiner har roligare (Disney+)
Stuber (Disney+)
Brothers in Exile (Disney+)
Chasing Tyson (Disney+)
Deion's Double Play (Disney+)
The Dominican Dream (Disney+)
Little Big Men (Disney+)
Doc & Darryl (Disney+)
No Mas (Disney+)
Phi Slama Jama (Disney+)
Pony Excess (Disney+)
The Day the Series Stopped (Disney+)
Tim Richmond: To the Limit (Disney+)
The Good, the Bad, the Hungry (Disney+)
There's No Place Like Home (Disney+)
Year of the Scab (Disney+)
What Carter Lost (Disney+)
Nascafolkets sista hemligheter (Disney+)
Expedition Everest (Disney+)
Birdgirl, säsong 1 eps. 5 (HBO)
Life in a Year (Viaplay)
15 maj
The Real Housewives of New York City, säsong 3 (Netflix)
The Real Housewives of New York City, säsong 4 (Netflix)
Mara (Viaplay)
16 maj
Spotlight (Prime Video)
Unfriended (Netflix)
Love or Money (Netflix)
Endless Love (Netflix)
Fifty Shades of Grey (Netflix)
Pitch Perfect 2 (Netflix)
The Interpreter (Netflix)
Boyhood (Netflix)
Try Hard, säsong 1 (Viaplay)
17 maj
Fear the Walking Dead, säsong 6, eps. 13 (HBO)
Real Time with Bill Maher, säsong 19, eps. 16 (HBO)
Mare of Easttown, säsong 1, eps. 5 (HBO)
The Nevers, säsong 1, eps. 6 (HBO)
The Little Things (Blu-ray)
The Final Stand (Blu-ray)
The Vanished (Blu-ray)
Beavis and Butt-Head: The Complete Collection (Blu-ray)
Fast Times at Ridgemont High, The Criterion Coll. (Blu-ray)
Spionen som kom in från kylan (Blu-ray)
Masculin Féminin, The Criteriom Colll. (Blu-ray)
Behind the Mask (Blu-ray)
Sequin in a Blue Room (Blu-ray)
Saw (Blu-ray)
Saw 1-8: The Legacy Coll. (Blu-ray)
18 maj
Sardar Ka Grandson (Netflix)
19 maj
Who Killed Sara?, säsong 2 (Netflix)
20 maj
The Handmaid's Tale, säsong 4, eps. 6 (HBO)
Special, säsong 2 (Netflix)
Little Singham Telefeature 8 (Netflix)
Save Yourselves! (Viaplay)
21 maj
P!Nk Documentary, Unt. (Prime Video)
The Neighbor, säsong 2 (Netflix)
Master of None, säsong 1 (Netflix)
AIRawabi Schoole for Girls, säsong 1 (Netflix)
Army of the Dead (Netflix)
Jurassic World Camp Cretaceous, säsong 3 (Netflix)
Angel, säsong 1-5 (Disney+)
War of the Worlds, säsong 1-2 (Disney+)
Marvel Comics: Spider-Man (Disney+)
Marvel's M.O.D.O.K., säsong 1 (Disney+)
Extreme Rescues, säsong 1 (Disney+)
Renaissance Man (Disney+)
Gullivers resor (Disney+)
127 timmar (Disney+)
Breakthrough (Disney+)
The Day After Tomorrow (Disney+)
Flight of the Phoenix (Disney+)
Mission to Mars (Disney+)
Area 51: CIAs hemmelige filer (Disney+)
Seeker: The Dark is Rising (Disney+)
Army of the Dead (Netflix)
The New Mutants (Viaplay)
The Astronauts, säsong 1 (Paramount+)
22 maj
Ace Ventura: When Nature Calls (Prime Video)
Ace Ventura: Pet Detective (Prime Video)
The Grudge (Prime Video)
The Traitor (Viaplay)
23 maj
Thunder in My Heart, säsong 1 (Viaplay)
https://youtu.be/BQqh6yZaRNI
24 maj
The 5th Wave 24 (Prime Video)
Real Time with Bill Maher, säsong 19, eps. 17 (HBO)
Mare of Easttown, säsong 1, eps. 6 (HBO)
In Treatment (HBO)
The Chi (HBO)
Black Monday (HBO)
Zack Snyder's Justice League (Blu-ray)
Zack Snyder's Justice League (4K UHD BD)
Line of Duty, säsong 1-6 (Blu-ray)
Line of Duty, säsong 6 (Blu-ray)
Run Hide Fight (Blu-ray)
Tom and Jerry: The Movie (Blu-ray)
Weird Wisconsin: The Bill Reban Coll. (Blu-ray)
The Saint (Blu-ray)
Get Rich or Die Tryin' (Blu-ray)
One Armed Boxer (Blu-ray)
Rosemary's Baby (Blu-ray)
The Last Castle (Blu-ray)
The Tuxedo (Blu-ray)
The Strange World of Gurney Slade (Blu-ray)
Time and Tide (Blu-ray)
To Olivia (Blu-ray)
Mobile Suit Gundam 0083 (Blu-ray)
Minari (Blu-ray)
The Swordsman (Blu-ray)
Mission: Impossible (Blu-ray)
The Silence Before Bach / Mudanza (Blu-ray)
26 maj
Il Divin Codivo (Netflix)
Baggio: The Divine Ponytail (Netflix)
Nail Bomber: Manhunt (Netflix)
Hign on the Hog (Netflix)
Mr. Inbetween (HBO)
27 maj
Ragnarok, säsong 2 (HBO)
The Handmaid's Tale, säsong 4, eps. 7 (HBO)
Black Space, space 1 (Netflix)
Soy Rada: Serendipity (Netflix)
Eden (Netflix)
Eternal Beauty (Viaplay)
28 maj
The Kominsky Method, säsong 3 (Netflix)
Lucifer, säsong 5, del 2 (Netflix)
Dirt, säsong 1-2 (Disney+)
Rebel, säsong 1 (Disney+)
Ugglehuset, säsong 1 (Disney+)
Glee: The 3D Concert Movie (Disney+)
A Walk in the Clouds (Disney+)
Hope Floats (Disney+)
Martha Marcy May Marlene (Disney+)
Launchpad Presents: Amerikansk Eid (Disney+)
Launchpad Presents: Växande huggtänder (Disney+)
Launchpad Presents: Att vara en tiger (Disney+)
Launchpad Presents: En liten prins(essa) (Disney+)
Launchpad Presents: The Last of the Chupacabras (Disney+)
Notre Dame: Den otroliga kapplöpningen (Disney+)
Flyktingarna i Pompeji: På flukt (Disney+)
Marvel Comics: The Incredible Hulk (Disney+)
The Mauritanian (Prime Video)
Panic, säsong 1 (Prime Video)
Love Life, säsong 1 (HBO)
Resistance (Viaplay)
29 maj
A Beautiful Day in The Neighborhood (Prime Video)
Target Number One (Viaplay)
31 maj
Mare of Easttown, säsong 1, eps. 7 (HBO)
The Parisian Agency: Exclusive Properties, säsong 1 (Netflix)
Racket Boys, säsong 1 (Netflix)
2067 (Blu-ray)
Last Action Hero (4K UHD BD)
Last Action Hero, Lim. Steelbook ed. (4K UHD BD)
The World of Wong Kar-Wai, The Criterion Coll. (Blu-ray)
Blood and Boil (Blu-ray)
The Sting (4K UHD BD)
Animal House (4K UHD BD)
Shrek (4K UHD BD)
Sound of Metal (Blu-ray)
Mobil Suit Gundam Seed (Blu-ray)
Doctor Who, säsong 19, Lim. Coll. ed. (Blu-ray)
Doctor Who, säsong 12, Lim. Coll. ed. (Blu-ray)
Over the Edge (Blu-ray)
Lake Mungo (Blu-ray)
The Devil-Ship Pirate (Blu-ray)
Duel (Blu-ray)
Stardust (Blu-ray)
One Cut of the Dead (Blu-ray)
Mulan (Blu-ray)